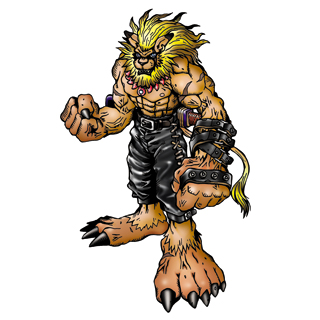 I am well aware that Agumon is the "Pikachu" of Digimon, but Leomon is my favorite, and is easier to work with in terms of moveset.
Neutral Special: Fist of the Beast King (fires a fiery lion head forward that like Luigi's fireballs, is unaffected by gravity.)
Side Special: Beast Sword (Slashes forward with his sword which does electrical damage. The electricity wasn't actually something of Leomon, but based on the fact that his previous form used electricity.)
Up Special: Lion's Pride (Original technique; rising uppercut with a burst of energy in his fist.)
Down Special (ground): Mighty Roar (Original technique; roars, which does no damage, but has good knockback that is the same no matter how high the victim's damage meter is.)
Down Special (air): Striking Leo (Original technique; slams down with his sword similarly to Link's Air attack, but with greater speed and force, and doesn't pause when it makes contact with an opponent.
Super Nuke: Warp-Digivolve (Warp-Digivolves into SaberLeomon temporarily, and is able to do Howling Crusher (energy claw swipe) using the Attack button, and Double Destroyer (giant mouth fireball) using the Special button.)
Attack Combo: Punch-Punch-Sword swipe
Forward Smash: Sword slash
Air Attack: Kicks forward
Taunt: Crosses his arms and says: "You must fight with honor."
Victory Pose: Cracks his knuckles and says: "My destiny was to win this fight."
Entrance: Digivolves from Elecmon then says: "You cannot win."
SaberLeomon: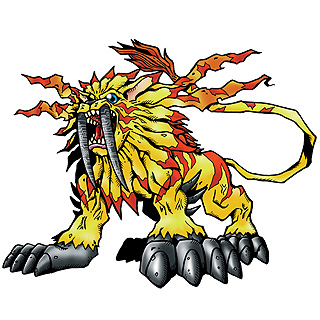 Elecmon: